Jitsi is an open-source video conferencing application for the web platform, Windows, Linux, macOS, iOS, and Android. Jitsi Meet uses Jitsi Video bridge to provide high quality, scalable video conferences and Jitsi Video bridge is a WebRTC compatible, XMPP server component designed to run thousands of video streams from a single server.
The main consideration when building video conferencing platforms is that they should support a given number of concurrent users using a viable, cost-effective infrastructure. To balance the load, an amalgamation of servers, ie. Shard is necessary for Jitsi to perform and work together with important components such as JVB, Prosody, Jicofo, and Jigasy to provide a smooth transition of service according to requirements.
In our context, a shard is a cluster of servers set up to provide robust and stable video conferencing using Jitsi or any other RTC system. For Jitsi we typically setup about 100 - 1000 concurrent users per shard which contains Jitsi Meet, installation of Prosody, Jicofo, JVB, and if necessary Jibri for recording sessions. Within a shard, multiple JVBs and/or Jibris would auto-scale depending on demand on the internal resources so the infrastructure is billed only when actually needed. Non-autoscaling shards can also be configured where businesses that want to manually turn on or keep a fixed number of servers running have a necessity.

Using a technology named OCTO telematics, multiple shards are fitted for larger systems and sometimes across global networks and network regions to reduce latency and packet loss.
Shown below is the architecture for scaling Jitsi Meet in a cloud environment.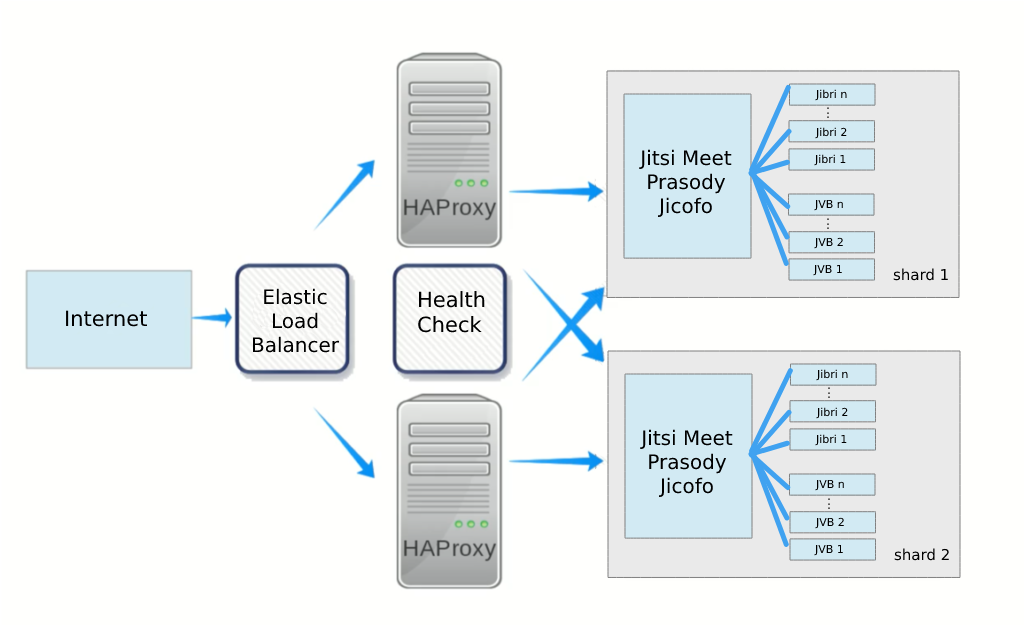 The components;
JVB is an intelligent relay server and a scalable video router. JVB is the brain behind the operation of building the ultimate open-source video conferencing solution, the Jitsi Videobridge.

Jibri provides services for recording or streaming a Jitsi Meet conference.

To configure Jitsi Meet and allow Jibri to connect in any video conference is when Prosody comes in to play. Prosody is an xmpp (Extensible Messaging and Presence Protocol) server where all components connect so that they can communicate using xmpp protocol, in simple terms it can be explained as an instant messaging backend service. This includes web, Jicofo, JVB and the rest of the components.

Jicofo is the signaling focus and is in the cloud in your graphic. This conference manager, once signaled by Prosody it is the first to enter a room and orchestrates the conference by sending invites, opening channels on the videobridge etc.

Jicofo invites Jigasi in conference when a user does a dial out. Jigasi is a server-side application that links and allows regular SIP clients to join Jitsi Meet conferences hosted by Jitsi Videobridge. Jigasi registers as a SIP client and can be called or be used by Jitsi Meet to make outgoing calls. It is just a connector that allows SIP servers and B2BUAs to connect to Jitsi Meet.
This is briefly how each component back each other up and work together in Jitsi Meet.
For more information on our packages and services mail us at hello@meetrix.io