What is Jitsi - Video Conferencing that made for Everyone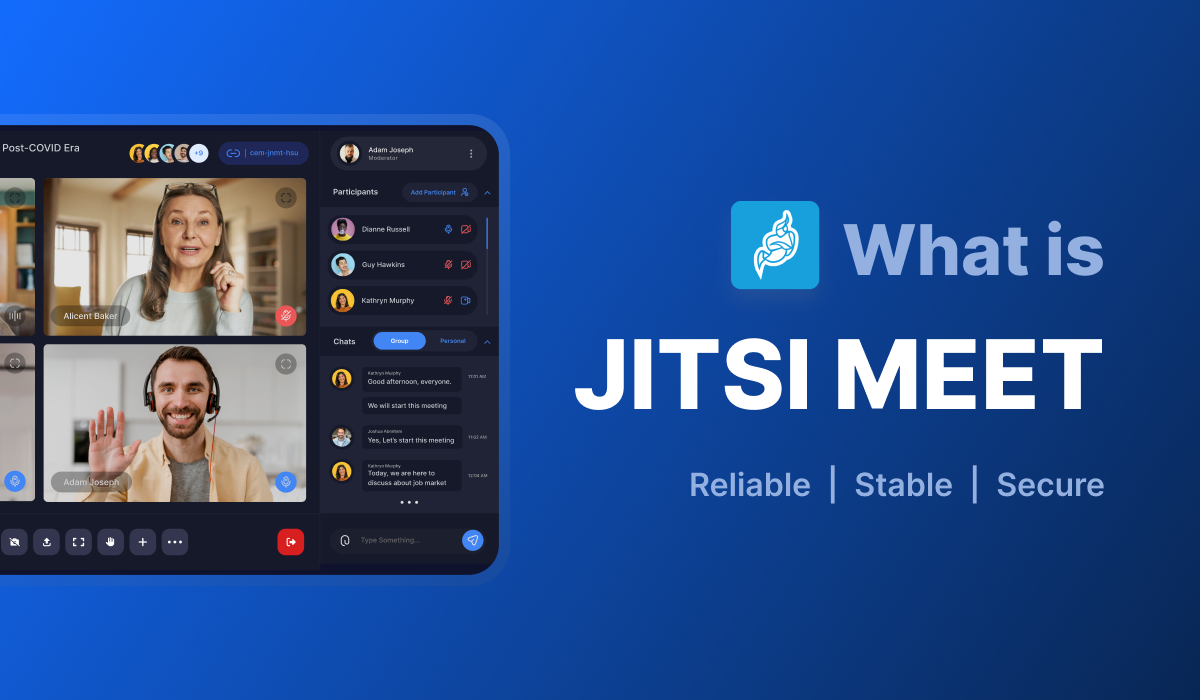 Introduction
Remote work, often dubbed Work-From-Home (WFH), has seen a significant rise after the Covid-19 pandemic and the enforced lockdowns that came with it, propelling workers to engage in their jobs from the safety of their homes. Although this was once done out of necessity, it is now a readily available option in most companies. Despite its convenience, it is not quite the same as working with peers in a company setting and this lack of social interaction has popularized the use of web meeting platforms to bridge the gap between remote workers. Jitsi Meet is an open-source meeting platform created to meet the rising demand for web spaces to hold meetings and exchange information. Meeting platforms such as Jitsi Meet provide the unique opportunity to maintain professional contact while also allowing for entertainment, which is considered necessary for workers confined to their homes rather than a shared workspace.
What is Jitsi Meet?
Jitsi Meet is relatively new to the market, but it is easily one of the more accessible platforms convenient for both commercial and personal use. As with other meeting platforms, Jitsi Meet provides users access to recurrent meetings and allows for the creation and sharing of new links. Unlike most, however, Jitsi Meet is unique in its inception; meetings are void of a time limit, facilitating longer conversations and lessening the anxiety of keeping things brief with a countdown to be mindful of.
The user-friendly interface allows for ease of access and contributes to its simplicity. Jitsi Meet is equipped with end-to-end encryption to protect and safeguard the data shared within its platform, ensuring the privacy of its users. It can be used to host meetings with an unlimited number of participants, allowing for optimal exchange of information. Jitsi Meet has an array of features that facilitate easy and excellent communication.
Why Jitsi Meet?
The market of web platforms is oversaturated and choosing one that fits your needs is not an easy task. Jitsi Meet is one-of-its-kind with multifaceted features that can easily be integrated into multiple sectors of work. Some of its key features are expanded on below:
Video Conferencing
Video conferencing is an integral part of web meeting platforms, catering to a wide variety of careers. Real-Time video conferencing is an invaluable tool for people who work from home as it allows them to keep in touch with their colleagues and provide timely updates, as well as feedback, when necessary. Jitsi Meet offers high-quality video conferencing, with an option for low-bandwidth operation. This feature allows users to opt for their desired quality of video and audio.
Screen-sharing
Jitsi Meet offers the option to share one's screen during meetings, to optimize the relaying of information and aid discussions during team meetings. This feature is especially useful for people working in the corporate sector as it allows for the sharing of presentations from the comfort of your home and enables the sharing of mutual and differential opinions on the subject matter. During personal meetings, this feature proves to be an excellent asset, as it allows participants to stream media, play games and even share archival anecdotes. This feature also aids educators in sharing syllabus content as well as fostering collaborative learning practices within the e-classroom.
Chat Functionality
The chat feature is an essential part of the Jitsi Meet makeup as it allows for real-time communication during meetings. It allows for the exchange of information crucial to the meetings, especially for users in the corporate sector, where opinions are the driving force of the conversations. On Jitsi Meet, users can share links containing media, and files such as images and pdfs using an external plugin via the chat. Any pressing questions can easily be answered during the meeting with minimal delay, which makes Jitsi Meet quite suitable for educators who may want to venture into the E-learning space.
Recording Options
Most companies keep records of all discussions held during work hours. For remote workers, this particular process is made easier with the option to record the meeting process. Jitsi Meet offers the option to record meetings for future reference, storing these files in Cloud Storages. These recorded meetings allow users, who may be unable to attend in real-time, to review the discussions held so they are kept up-to-date with the company proceedings. The recorded option also aids educators with a unique opportunity to create Educational content in bulk; this is quite convenient for both teachers and students as teachers are able to cover a large area of content in a short period of time, and students are able to access the recordings anytime if they have the link with them.
How convenient is Jitsi?

Privacy and Safety:
Web platforms are governed by Intellectual property rights. Privacy and safety are aspects of great concern in cyberspace, and Jitsi Meet is one of the more securely safeguarded platforms available on the market. The meetings are encrypted, and considered ephemeral because they only exist when the meetings are in progress; anyone who tries to access the link afterward is directed to a new meeting room. This helps to ensure that meetings are not susceptible to random attacks.
Arguably, one of Jitsi Meet's most controversial security measures is the feature that allows any participant to mute or remove another user. This feature only exists to moderate the technical and social conduct of meetings, and allowing all users the same soft moderative measures helps build team morale in the long run.
Jitsi Meet does not require users to create an account from the get-go. Names and emails can be shared with meeting participants, but it is entirely voluntary. Jitsi does not retain any of the information shared; all chats, polls, and relevant stats conducted during meetings are promptly deleted once the meeting ends unless users have configured the meeting link to save the information shared. This process is fairly transparent and convenient for all parties involved.
Compatibility:
Jitsi Meet may be dubbed a web platform, but it exists in the form of a mobile app as well. It is compatible with an array of servers, with Internet Explorer being an exception on desktop browsers. It does not need to be installed into the computer to run; meeting links lead to new tabs with the meeting space in Jitsi Meet. This feature is quite convenient as it negates the need for installation and the subsequent need for space on user computers. It is worth noting that certain browsers support Jitsi Meet better than others; Chrome being the most compatible, while Opera, and Microsoft Edge allow easier navigation than Firefox, especially on iOS.
Where is Jitsi used?
Jitsi Meet is used in multiple sectors and is uniquely designed to fit the needs of the majority.
Corporate Sector:
Although we have briefly touched on how Jitsi Meet may be used in the corporate world, its use is most prominent here. The corporate world relies on networking, on building connections between people and companies, to market products and services. This process can often transcend cities, countries, and even continents. A web platform like Jitsi Meet is the ideal solution to bridging the gap between two entities hoping to collaborate. It is a remote worker's equivalent of a conference room and an in-person employee's means to reach beyond their horizons.
Education Sector:
Popularised post-Covid 19 pandemic, virtual education has been around since the inception of modern technology. Jitsi Meet as a web platform offers the ideal classroom
for educators and students. Subject content can be shared on-screen in a way that replicates real-life whiteboards and student feedback can be shared via the chat feature. Education was once considered a commodity that only a select group had access to, however with the rise of web platforms like Jitsi Meet, it has become increasingly easier to access.
Healthcare Sector:
Jitsi Meet is also quite useful in the healthcare sector, as it offers High-Resolution video conferencing facilities that can be used during surgeries and regular treatments. In recent years, many web platforms have been developed to encourage seeking medical treatment from the safety of one's home; Jitsi Meet offers a safe and secure way to engage in these consultations. In the healthcare sector, authentic and confidential communication is of utmost importance for patient care and teamwork among medical professionals. The high-quality video conferencing provided by Jitsi Meet aids patient assessments, allowing healthcare providers to make meticulous diagnoses and treatment plans. The strict privacy controls in Jitsi Meet create a safe environment for professionals in the healthcare sector to discuss medical information which may be sensitive in nature, and protect patient privacy.
Defense Sector:
It is very important for communications to be highly secure in the defense sector. Jitsi Meet creates an ideal environment for two-way communications with an exceptional level of security given its advanced encryption. It provides an infallible and dependable platform for sensitive conversations to take place. The data exchanged during the video conferences are inaccessible to unapproved individuals and remain highly confidential given the platform's end-to-end encryption. Given Jitsi Meet's open-source nature, it is continuously adapting to policy changes within the cyber-space and ensuring that it remains trusted and a reliable choice for defense personnel.
Finance Sector:
The finance sector is another place where Jitsi Meet plays a vital role, by enhancing effective communication and enabling collaboration on a global scale. With its creative design and innate features, Jitsi Meet allows professionals in the finance sector to engage in collaborations within an efficient platform. The platform's interface is easy to navigate and quite accessible. Finance teams can conduct productive meetings in real time. The simple onboarding process reduces the learning time for new users. The finance sector can easily adapt Jitsi Meet for market trend analysis, planning sessions, and discussions focused on investment, thanks to its unique interface and high levels of confidentiality provided by its data security policies.
Strengths of Jitsi
Jitsi Meet is an exceptional platform with many advantages for both corporate users and individual users.
One of the most prominent pros of using Jitsi Meet is its user-friendliness. Users can easily initiate or join meetings even as tech novices, because of its streamlined and intuitive interface.
As an open-source platform, Jitsi Meet is highly customizable. Its users can to modify the software to meet their needs.
Jitsi Meet is highly compatible with a wide variety of devices and operating systems, warranting easy collaboration between coworkers and business partners regardless of their devices.
Jitsi Meet is revered for its stark security measures, such as end-to-end encryption and password protection for meetings, which sets them apart from many similar platforms.
Limitations of Jitsi
While Jitsi Meet offers numerous benefits, there are a few limitations worth considering.
Users must consider the platform's dependence on internet connectivity. Jitsi Meet offers different qualities for different bandwidths, however in places with slow or unstable connections, users may face some difficulties in sustaining an uninterrupted meeting experience.
Jitsi Meet has limited scalability compared to some other conferencing platforms. While it can certainly fit a large number of participants in a meeting, there may be some strain in handling bigger-scale conferences due to network bandwidth and other infrastructure-related variables, especially if the duration of the meeting is significantly long.
However, Jitsi Meet is an ideal choice for users in search of a reliable and user-friendly video conferencing platform.
Conclusion
Jitsi Meet is uniquely positioned in the web platform market as it is a free, open-sourced but highly scalable platform, and it offers a variety of features that can easily be integrated into multiple work environments. It is fairly safe and does not require any special technical training to navigate.
It drives a hard bargain to become your go-to real-time communication platform, and who could blame you? It's convenient, multi-faceted, and most importantly, free. The next time you want to get in touch with a colleague without having to walk to their cubicle, or when you want to get a quick medical assessment but don't want to drive yourself to the hospital, Jitsi Meet is the one-click solution you've been looking for.