Revolutionizing Real-Time Communication: How Huddle XR Leveraged Meetrix for Enhanced RTC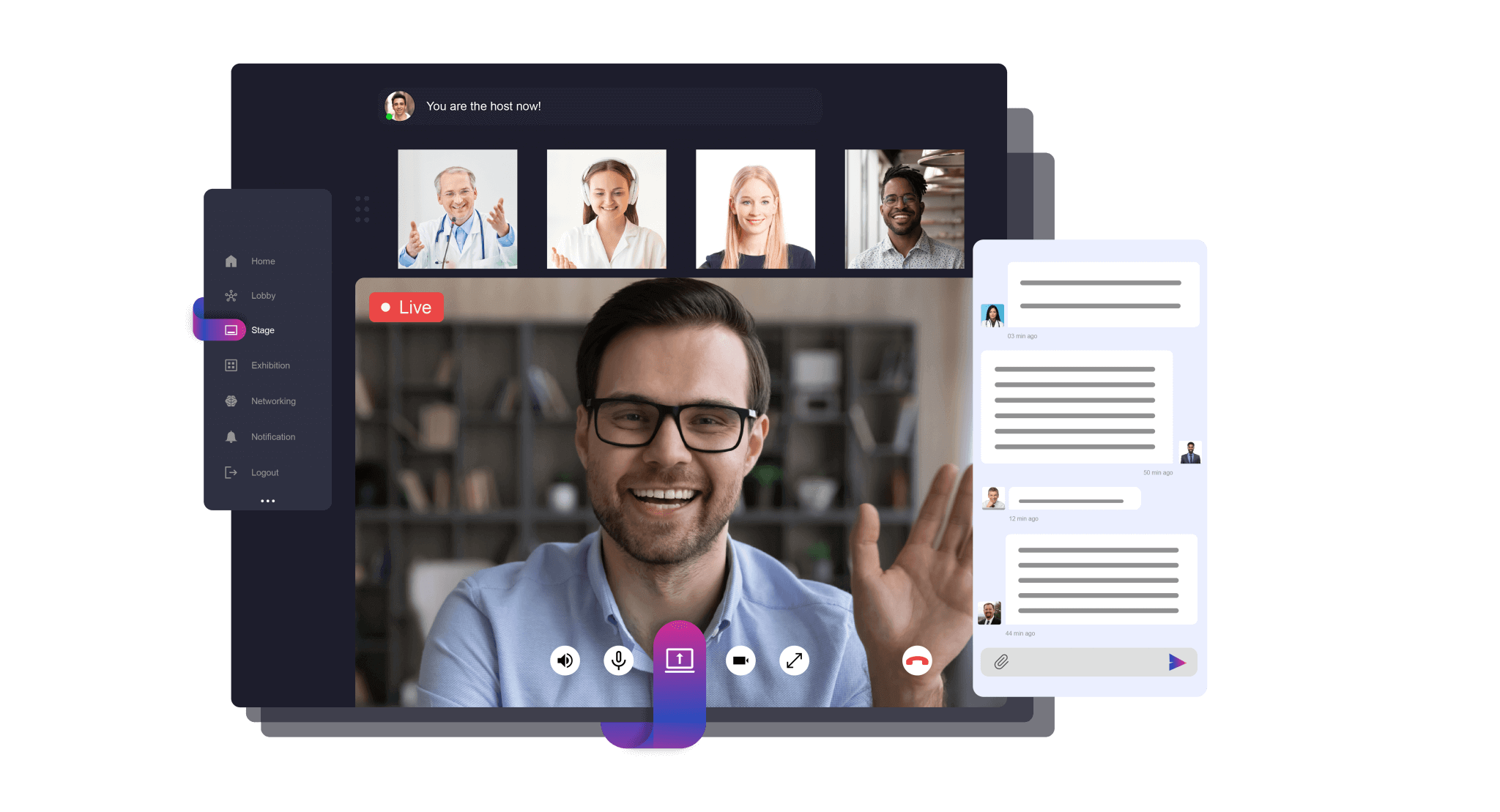 Pioneer Communications Platform Huddle XR leveraged Meetrix to strengthen the core of their communication platforms and enhance security.

Introduction
Huddle XR is a virtual platform that encourages collaboration in remote work by integrating immersive technologies. Its focus is to use both Augmented Reality (AR) and Virtual Reality (VR) to bridge the gap between remote workers and their peers. Users of Huddle XR are able to participate in virtual meetings as well as interactive presentations in real-time. Huddle XR caters to many different fields of work and has a versatile design to it. The team at Huddle XR employed Meetrix to deploy the Jitsi infrastructure set up with Octo Configuration.
Huddle XR was founded with a specific focus on using AR and VR to establish mainstream virtual communication. It employs three in-built platforms to facilitate the streams of Real-time Communication such as Community, Conference, and Exhibition. It hosts an array of features typical of a communication platform and has an interactive and user-friendly interface.
Process
Huddle XR acquired Meetrix's assistance to solve specific problems related to video quality and security. Meetrix was able to provide them with JVB Shard setup as well as Octo Configuration, which are discussed in-depth below:
Meetrix was able to assist Huddle XR increase the scalability and performance of its platform by introducing Multi shard setup. There were two shards that were hosted in two different regions. Two of the HA Proxy servers were configured to distribute traffic across the Jitsi Meet servers, in order to balance the load and increase scalability ensuring that the network resources available are used in an efficient manner. By implementing these configurations, Meetrix was successful in regulating the Huddle XR platforms' functionality.
Similarly, Meetrix also arranged for two separate setups of Octo Configuration in the Huddle XR platforms using Jitsi Meet. Octo is one of Jitsi's unique features that allow the distribution of video conferencing participants over many geographic locations. Huddle XR was able to route participants to JVB instances closest to their region, allowing them to load balance the data traffic from the conference and optimize the use of network resources. This aided in smoother operation within the conference. Using Octo allows for regional scalability, where users from all across the globe have easy access to the platform, adding to Huddle XR's success. This particular process is one of Meetrix's most frequently offered services because of the panel of expert engineers on the team.
Another important component in which Meetrix was deployed was autoscaling groups for JVBs. When the traffic in the setup goes high, the number of JVB instances will be increased. And when the traffic is low, it will be decreased ensuring the cost optimization. That aids the Huddle XR team's ability to support large-scale events virtually, elevating their status as a top contender for most sought-out communications platforms.
Following are the versions we have used when deploying the setup.
Client Review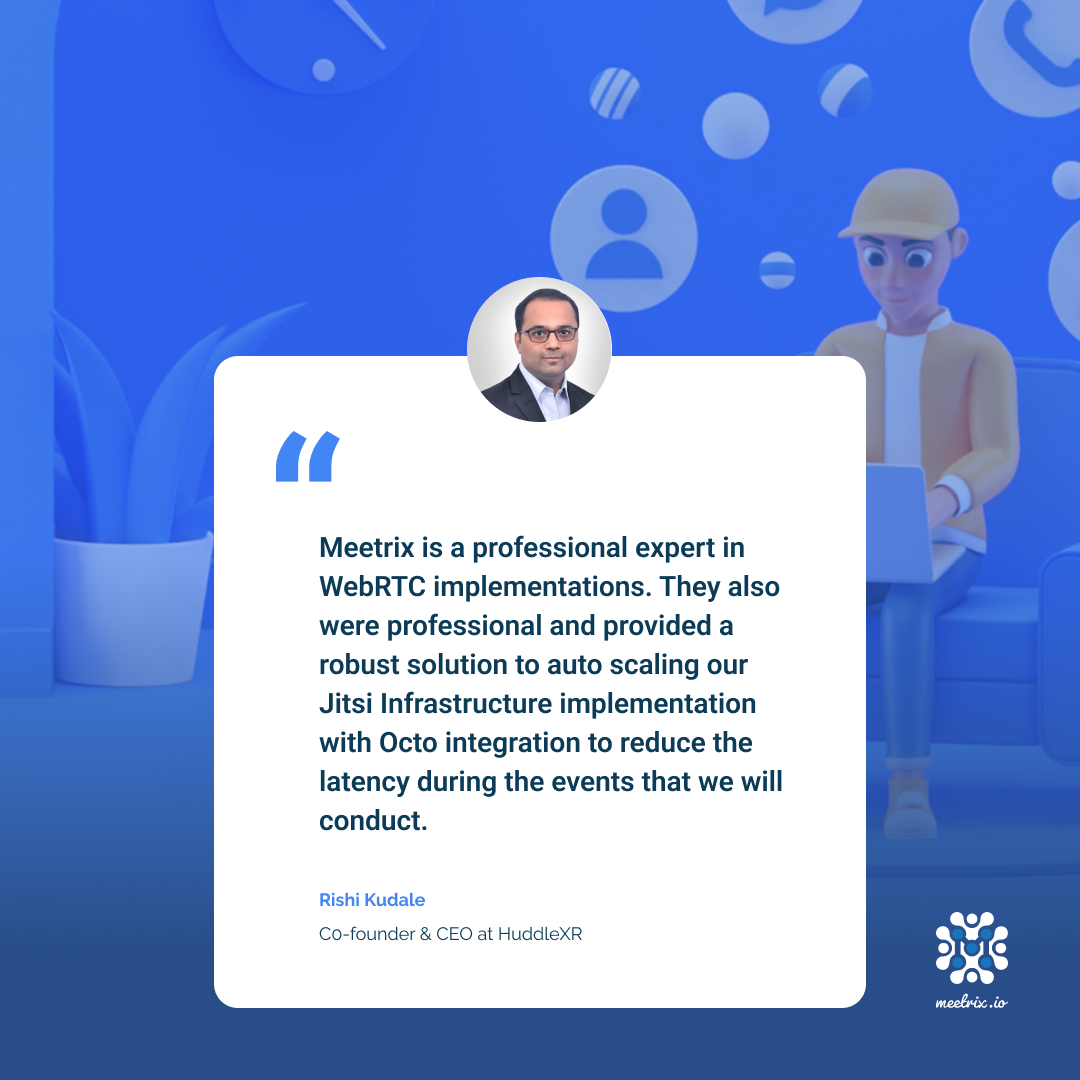 Conclusion
Huddle XR platforms have benefited immensely after the integration of Jitsi's feature by the team at Meetrix. The components of Jitsi Meet that were introduced to the platform have boosted its growth and aided its productivity such that the systems are still in use today.
Building solutions using Jitsi Meet has broadened the horizons of Huddle XR's reach and secured its spot as a leading communications platform. Meetrix is able to integrate Jitsi Meet efficiently into systems because it is a constantly developing software with a multitude of benefits to using it; Meetrix is constantly striving to develop easier and more efficient features in Jitsi Meet to help create lasting and impactful networks across the globe. According to Rishi Kudale, the Co-founder and CEO of Huddle XR, "Meetrix is a professional expert in WebRTC implementations."