Exploring the Versatility of Jitsi: Domains and Use Cases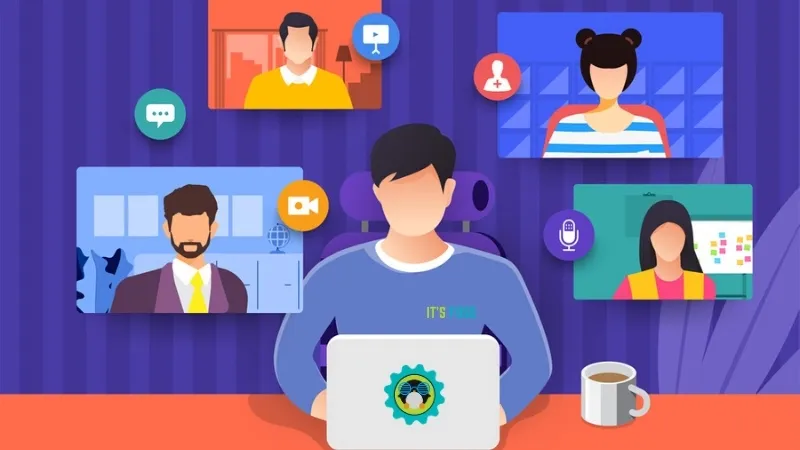 Introduction

Effective communication over the Internet has become a necessity in recent years, given the rapidly advancing digitalisation of nearly all industries. It is equally important in both personal and professional endeavours. The advent of technology has propelled video conferencing solutions to new heights, with the constant development of powerful tools curated to bridge the gap between people and facilitate face-to-face interactions despite the physical distance.
Among the many video conferencing platforms available in the market, one name stands out for its versatility, ease of use, and open-source nature - Jitsi. Emerging at a time when the world was forced into a lockdown, courtesy of the Covid-19 virus, Jitsi proved to be a unique instalment to the list of video conferencing tools available in the market. Not only did it cater to users with expert-level understanding of technology, but it was also fairly easy to navigate for those who were novices to video conferencing. It aptly met the needs of several industries and businesses, with its multifaceted interface and plethora of in-built features.
Overview of Jitsi

Jitsi is an open-source video conferencing platform that introduces users to real-time communication through streaming audio and video functionalities. The platform has evolved over many years, and today it is primarily available under two main household names:
Jitsi Meet

This browser-based version of Jitsi enables users to host and join virtual meetings without needing to install its software. Participants can access the meeting link via browser and engage in the video conferences with ease.
Jitsi Desktop

Jitsi Desktop is a downloadable application with additional features and customization options, specifically crafted to cater to advanced users. It is available across multiple operating systems such as Windows, macOS, and Linux.
Core Features

Some of the core features that set Jitsi apart from other video conferencing solutions include:
White Labelling: Jitsi customizes its meeting platform according to the client branding and logo such that the video conferences feel more personalized for the organization's experience.

High Scalability: Because of its ability to host meetings for any number of participants, Jitsi is quite versatile and has high scalability, often being able to fit the client's requirements when it comes to participant numbers.

High-Quality Video and Audio: Jitsi supports high-definition video streaming and audio, which ensures that participants can communicate effectively.

Screen Sharing: The platform allows users to share their screens with others, making it ideal for collaborative work.

Chat Functionality: Jitsi is equipped with a chat feature that enables participants to send and receive text messages during video conferences.

Participant Management: Hosts can mute or unmute participants, and manage access controls, to ensure an organized meeting environment.

End-to-End Encryption: Jitsi is known for prioritising security and privacy. They're able to do this by providing end-to-end encryption for all communication to protect sensitive data.

Easily Configurable: Jitsi is easy to configure given its Open-source nature, which makes it highly deployable to the client's infrastructure and leads to a smooth transition.

Recording and Streaming: Jitsi records meetings and allows participants to stream the recordings across platforms where necessary.
Importance of Video Conferencing Solutions

With the expansion of businesses globally and an increased prevalence of remote work, efficient communication is key and having the right tools to do so is paramount. There are some key reasons why video conferencing tools like Jitsi are important:
Allows for Seamless Collaboration.
Is Cost-effective in comparison to travelling to meet someone.
Improved Communication as it involves video as well as audio transmission.
Enhanced Flexibility for employees to balance both professional and personal time.
Real-Time Communication, which enables immediate conveyance of information.
What is Jitsi?

Jitsi is an open-source video conferencing platform that is versatile as it facilitates real-time communication through audio and video streaming. It is rather seamless in the way it allows participants to communicate, collaborate, and connect remotely. With Jitsi, users can have face-to-face interactions, share screens, and chat in a protected and user-friendly environment.
Core Features and Functionalities

High-Quality Video and Audio
Screen Sharing
Chat Functionality
Participant Management
End-to-End Encryption
Web-Based Access
White Labeling
A Brief Overview of Domains Where Jitsi is Used

Corporate Communication: Jitsi is used in the corporate world to host remote team meetings, enhance internal collaboration, and conduct virtual training sessions.

Education: Jitsi enables online classrooms, virtual learning, and individual tutoring sessions, which offers students a dynamic learning experience.

Healthcare: Healthcare professionals can utilize Jitsi for telemedicine, remote patient consultations, and to attend and host virtual healthcare conferences while prioritizing patient privacy and data security due to its highly encrypted nature.

Defence Sector: Jitsi is used in the defence sector to have effective communication between military personnel and share sensitive data without compromising security.

Non-Govermental Organizations (NGO): Jitsi is a free video-conferencing tool that offers the perfect platform for people working in and with NGOs to conduct meetings as well as virtual conferences regarding their areas of interest. It bridges the gap between individuals across the country and the globe to ensure effective communication with minimal cost.

Telecommunication: Jitsi can be used by telecommunication companies to strengthen internal communication and provide their customers with value-added services, such as video conferencing.

Manufacturing: Remote collaboration and communication is key within the manufacturing sector, which can easily be elevated by using Jitsi. Communications between supplies and distributors can be efficiently held over Jitsi.

Entertainment: Jitsi can host meetings focused on entertainment, such as virtual Book Clubs and Movie Nights. It is also highly adaptable to hosting events meant for content consumption and facilitates Meet-and-Greet type calls between fans and celebrities.
Jitsi in Corporate Communication

Rapidly growing globalization has increased the need for the expansion of corporates to reach a wider audience, which has made the need for digitalization a tool to leverage their growth. Effective communication is an important aspect vital to the success of any organization.
Jitsi is an invaluable tool for corporate communication due to its feature-rich video conferencing capabilities, enabling businesses to conduct remote team meetings across the globe. This allows for the enhancement of internal collaboration and provides clients with the ability to conduct virtual training sessions.
Jitsi Meet Admin Panel

The Jitsi Meet Admin Panel is a Jitsi-based tool that provides administrators with controls and management features to oversee and configure their Jitsi Meet instances. It has a user-friendly interface, allowing administrators to monitor and regulate the video conferencing platform. Some of its key functionalities are listed below:
User Management
Security Settings
Server Configuration
Integration with Authentication Systems
Analytics and Reporting
System Health Monitoring
The comprehensive suite of management tools available on Jitsi Meet Admin Panel enables admins in the corporate sector to oversee, configure, and secure their Jitsi Meet instances. The centralized controls add to the convenience of using Jitsi Meet as a mode of virtual collaboration.
Facilitating Remote Team Meetings:

It enables face-to-face interactions among team members, which increases team spirit and facilitates growth within the organization.
Team members can share their screens during meetings which allow for collaborative discussions to take place.
Jitsi's in-built chat feature enables participants to exchange messages and clarify doubts during meetings. The chat feature allows members to share files via a File Share Plug-in, which makes it easier for users to share larger files in real time.
Enhancing Internal Collaboration:

Jitsi's easy usability allows users to conduct impromptu meetings, which enables quick decision-making and problem-solving.
Virtual meetings can incorporate team-building exercises, brainstorming sessions, and creative discussions, which fosters and increases employee engagement.
Jitsi's global reach enables multinational organizations to collaborate, despite geographical boundaries.
Conducting Virtual Training Sessions & Webinars:

Jitsi enables keynote speakers and trainers to interact with participants through video, making training sessions more interactive and dynamic.
The chat facilitates participants to ask questions, and receive immediate feedback during webinars.
Jitsi's in-built recorder enables participants to review the content of the training sessions whenever they'd like to.
Jitsi was employed in the world's biggest residential cruise The World CC for increased productivity, enhanced collaboration and effective communication between members of the staff on board, as well as as an official means of communication for clients and their loved ones. It was integrated such that it fit into their existing communication systems and has been successfully helping them increase their real-time communications over the years.
Jitsi in Education

The education sector has witnessed a transformation over the past years, with the digitalization of learning, partly due to the Covid-19 pandemic and the implementation of virtual learning as a primary source of learning. Jitsi has become an invaluable asset for educators and institutions, enabling seamless integration of technology in the education sector.
Enabling Online Classrooms and Lectures

Jitsi allows educators to interact with students in real time through video and audio communication, which promotes personalized learning experiences.
Teachers can share presentations and educational videos on-screen and can add an online whiteboard for demonstrations.
Jitsi's chat feature enables group discussions and collaborative activities among students.
Virtual Tutoring and One-on-One Sessions

Jitsi supports tutors to focus on individual learning needs, which tailors the tutoring experience to suit the student's pace and level of understanding.
Tutors and students can arrange sessions according to their convenience.
With Jitsi Meet's browser-based accessibility, students can join the sessions without having to download additional software.
Integration into E-Learning Platforms:

Jitsi can be used to offer live sessions on E-learning platforms, which combines self-paced learning with real-time interactions.
Interactive video conferencing enables student engagement and keeps learners attentive during online courses.
Jitsi integration increases collaborative group work and, discussions, and helps foster a sense of community among virtual students.
Jitsi for Healthcare Professionals

Effective communication and secure information exchange are critical factors in the healthcare sector to deliver quality patient care. Jitsi is an invaluable tool for healthcare professionals as it facilitates video conferencing while ensuring the utmost level of security.  
Telemedicine and Remote Patient Consultations

Jitsi enables healthcare workers to engage in face-to-face video consultations, which fosters a sense of personal connection and trust within the patient.
Healthcare professionals may assess patients' conditions remotely, diagnose illnesses, and issue prescriptions, which increases healthcare accessibility.
Jitsi allows for follow-up consultations, ensuring convenient continuity of care.
Virtual Healthcare Conferences and Workshops

Healthcare professionals globally can attend virtual conferences from the comfort of their own homes, which promotes diverse perspectives.
Jitsi enables interactive discussions via chat, which enriches the learning experience and encourages active participation.
Experts can present their research and findings remotely, ensuring valuable contributions to medical knowledge despite geographical barriers.
Maintaining Patient Privacy and Security:

Jitsi encrypts all data shared within meetings, which ensures that patient data remains confidential and protected.
Jitsi adheres to the Health Insurance Portability and Accountability Act (HIPAA) as it is a requirement for healthcare providers in the United States to ensure the protection of patients' private data.
Jitsi is secure when handling data, and minimizes the risk of data breaches and cyberattacks.
Jitsi for Defense Sector

Ensuring secure and efficient communication is of utmost importance in the defence sector, for effective military operations and quick decision-making. Jitsi has proven to be a very valuable asset as it aids the establishment of secure communications, facilitates planning and operations, and streamlines the process of submitting monthly reports to headquarters.
Secure Communications

Jitsi's chat feature facilitates personnel to exchange encrypted text messages during video conferences so information is highly secure.
Video conferencing through Jitsi is conducted with top-notch security measures, which mitigates the risk of interception of data.
Defense professionals can share sensitive documents via the File Share Plug-in through the chat, which prevents unauthorized access.
Planning and Operations

Commanders can use Jitsi to conduct remote briefings and debriefings, and update personnel on mission objectives and as well as progress.
Jitsi's screen-sharing allows for sharing of real-time updates on maps, tactics, and other critical data during planning.
Jitsi is highly accessible which allows personnel to join video conferences from various devices and enhances the flexibility of communication.
Monthly Reports to HQ

Commanders can schedule regular monthly meetings using Jitsi to submit reports.
Jitsi allows for multimedia presentations during reporting, which enhances the clarity and comprehensiveness of information shared.
Video conferencing is a direct line of communication which allows for immediate clarifications and follow-up questions.
Jitsi for Non-Governmental Organizations (NGO)

Non-Govermental organizations are non-profits vital to addressing social, environmental, and humanitarian issues. They rely on effective communication and seamless collaboration to meet their goals. Jitis is a highly beneficial platform for these organizations as it enables them to continue operations even if they are apart geographically.
Virtual Fundraising Events and Campaigns

Jitsi facilitates non-profits to increase their reach beyond local communities, and by engaging with a broader audience, they are able to reach potential donors and supporters.
Jitsi's real-time communication features allow non-profits to create interactive fundraising experiences.
Hosting virtual events through Jitsi negates the need for physical venues and related expenses.
Facilitating Remote Volunteering and Coordination
Volunteers are able to collaborate in real-time using Jitsi, which makes it easier for them to plan and execute projects.
Video conferencing allows non-profits to provide guidance and support to remote volunteers.
Jitsi's accessibility allows volunteers to participate in virtual meetings without the constraints of specific software as Jitsi is also browser-based.
Virtual Board Meetings and Organizational Communications

Board members can convene quickly and discuss critical matters in real-time using Jitsi.
Jitsi's highly secure nature and encryption ensure that discussions held within the meetings remain private.
Virtual board meetings eliminate the need for extensive travel, save time and are cost-effective.
Jitsi for Telecommunication
The telecommunications industry connects people and businesses worldwide, therefore it is crucial for it to be equipped with a versatile and secure video conferencing tool such as Jitsi, with numerous in-built features and a plethora of benefits for both the organization as well as the clients.
Customer Support & Services

Jitsi allows representatives to have virtual interactions with customers, which enhances the customer experience.
Customers can show their equipment through video calls, which allows the support teams to visually troubleshoot problems effectively.
Jitsi's real-time video support can lead to quicker issue resolution.
Sales Meetings

Jitsi allows telecommunications sales teams to connect with clients globally from the comfort of their own homes and office spaces.
Sales representatives can share their screens during meetings to deliver multimedia presentations, which makes pitches more informative and increases audience engagement.
Jitsi facilitates real-time negotiation and contract discussions.
Value-Added Services to Customers

Telecommunications companies offer customers additional communication channels when they provide them with Jitsi, which promotes better connectivity.
Value-added services like Jitsi help improve customer satisfaction and loyalty.
This particular service can differentiate telecommunications companies from their competitors and attract new customers.
Jitsi for Manufacturing

The manufacturing sector is reliant on effective communication and collaboration to ensure smooth operations. Jitsi provides a valuable means by which they can communicate within the team and with clients, to ensure that product manufacturing and sales-related operations run smoothly.
Seller & Distributor Meetings

Manufacturers can use Jitsi to communicate with sellers and distributors in real time, address queries and provide updates effectively.
Jitsi's video conferencing eliminates the need for travel, which reduces costs and saves time for employees and clients alike.
Jitsi encourages manufacturers to connect with sellers and distributors worldwide, to expand their reach and market presence.
Audits and Product Monitoring

Jitsi facilitates auditors and quality control teams to assess manufacturing processes in real time and provides them with means to give immediate feedback.
Auditors can conduct remote assessments with Jitsi, without the added expense of site visits.
Jitsi's tight security ensures that sensitive information remains protected.

Product Development and Design Reviews

Jitsi allows teams to collaborate in real-time, so they can share ideas and give feedback during the design and development process.
Virtual design reviews on Jitsi make decision-making easier and allow teams to make rapid progress in the product development process.
Manufacturers virtually meet with stakeholders from different locations for design reviews.
Jitsi for Entertainment

Entertainment is a significant part of people's daily lives as it offers them a chance to relax, be creative and engage in social interactions. Digitalization has made this easier as entertainment is readily available and exchanged over the Internet. Jitsi can facilitate several entertainment-centric events and helps foster meaningful connections.
Hosting Virtual Book Clubs and Movie Nights

Jitsi's screen-sharing feature enables book club members to read excerpts or discuss specific scenes together.
Participants can engage in real-time discussions over a Jitsi meeting, exchanging thoughts and perspectives on books and movies just as they would in person.
Jitsi is accessible to individuals from different locations, which fosters diverse participation.
Celebrity and Fan Content

Celebrities can interact with fans one-on-one or in small groups over Jitsi, which helps foster a personal connection.
Through Jitsi, celebrities can host virtual autograph signings, and live chats, which provides their fans with unique experiences.
Jitsi's accessibility ensures that fans from all over the world can participate in virtual events without the need for physical travel.
Concerts and Musical Events

Artists can engage with their audience during performances using Jitsi, responding to comments via the live chat to foster a sense of community.
Virtual concerts on Jitsi offer fans a unique experience, making fans feel more connected to the artists.
Virtual concerts on Jitsi are accessible to a wider audience, especially to those who may not be able to travel to attend in-person events.
Security and Privacy Considerations

Jitsi prioritizes security and user privacy. It offers a variety of features especially to ensure security and practices safeguarding sensitive data. Jitsi also complies with multiple data protection regulations such as the General Data Protection Regulation (GDPR).
Security features of Jitsi include:

End-to-End Encryption
Secure Socket Layer (SSL) Encryption
Password Protection and Authentication
Secure Lobby (Green Room) Feature
Data Security and Retention Policies
Data Protection and GDPR Compliance

Jitsi is committed to complying with data protection regulations as an open-source platform. This includes the European Union's General Data Protection Regulation (GDPR), of which some key features are listed below:
Lawful Data Processing
User Data Control
Data Processing Agreements (DPAs)
Data Minimization
Data Security Measures
Conclusion
Jitsi has proven to be a game-changer in the communication and collaboration space. It is versatile, making it an invaluable asset in various domains and encouraging widespread adoption.
In the corporate sector, Jitsi facilitates remote team meetings, enhances internal collaboration, and helps conduct virtual training sessions, ultimately leading to increased productivity and efficiency. In the education sector, Jitsi enables online classrooms, virtual lectures, and one-on-one tutoring sessions. It offers flexible learning opportunities and extends a dynamic and engaging learning experience for remote students.
Jitsi plays a crucial role in telemedicine and remote patient consultations, enabling virtual healthcare conferences, and facilitating knowledge sharing within the medical community. Jitsi also facilitates non-profits to conduct virtual fundraising events and coordinate remote volunteering efforts.
In the telecommunications sector, it enhances customer satisfaction and creates seamless progressions through telecommunications services. The manufacturing sector engages in the product design and development cycle despite geographical barriers and generates a rapport within and across teams. Jitsi can also be used for entertainment purposes, such that movie nights and book clubs can be held virtually.
In all domains, Jitsi prioritizes security and user privacy thanks to its numerous security-focused features, such as end-to-end encryption and multi-factored authentification. These features ensure that the information shared within meetings remains confidential and protected.
In a world that is constantly attempting to connect, Jitsi's presence in multiple diverse domains continues to grow. Its user-friendly interface, commitment to security and real-time communication facilities make it a formidable choice for users seeking seamless, efficient and secure communication solutions.
Jitsi has truly revolutionized the way we communicate, despite geographical boundaries to promote connectivity on a global scale. Jitsi's versatile applications and emphasis on its tight security help foster a more connected, efficient, and secure world.
Jitsi Domain-Related FAQs