Elevating Virtual Event Communication: Meetrix.io's Game-Changing Upgrades for Virtual Event Site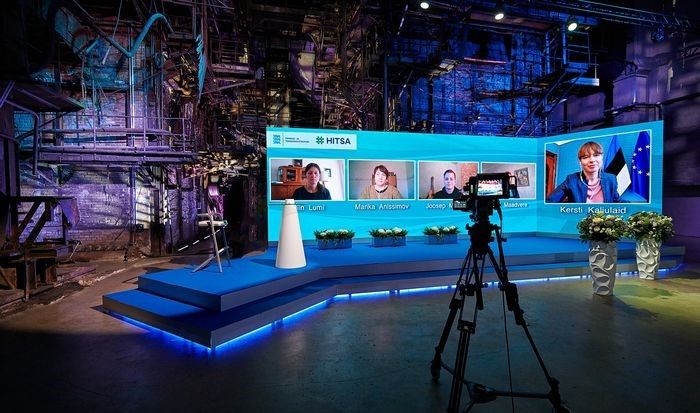 Virtual Event hosting platform acquired the assistance of Meetrix to enhance functionality and upgrade existing systems for better performance and security.
Introduction
Virtual Event Site is one of the leading platforms dedicated to hosting virtual events for a multitude of fields. It specializes in bringing together exhibitors, event organizers, and attendees despite geographical boundaries to provide them with a unique experience in a virtual environment. Given its highly technical nature, Virtual Event Site acquired the assistance of Meetrix to ensure the utmost streamlining of features and confidentiality.
Virtual Event Site has been dedicated to serving the need for virtual event spaces for over 20 years. It uses cutting-edge technology and a fairly user-friendly interface to help participants navigate through the events. Its standards for security and performance are high, ensuring confidentiality where necessary. Virtual Event site is equipped with a range of interactive features, to imitate the natural nature of face-to-face interaction, such as Q&A sessions and a live chat that runs throughout all events. The platform is able to host events on a large-scale, such that thousands of participants can be present without any depletion in audio or video quality.
Client Review
"The Meetrix team has been an invaluable partner in helping us build a stable video conferencing system for our virtual event clients. Their responsiveness is second to none, and they have helped us design a system to maximize guest count while ensuring a great user experience. It's awesome to have a partner who can provide a full stack solution with great customer service."
Process
Meetix proposed using Amazon Web Services (AWS), with autoscaling for JVBs and Jibris, HAProxy, Jitsi Meet, and Coturn servers. Meetrix was able to deploy instances in four different AWS regions using EC2 instances and set up multiple HA Proxies as load balancers to distribute incoming traffic in each region. DNS routing was configured to direct users of Virtual Event Site to their allocated regions.
Auto-scaling groups were created in each AWS region to adjust the number of JVB instances dynamically. Policies related to this were configured and Octo integration was implemented to allow intra-region communication. Octo allows the distribution of video conferencing participants over many geographic locations. The setup was capable of routing participants to JVB instances closest to their region, allowing them to load balance the data traffic from the conference and optimize the use of network resources.
Jibri instances were also set up as an autoscaling group in order to optimize the cost of the system. There are several Jibri instances always available and ready to record. When the available Jibri instances started recording, new instances will be created and available for recording. And when the number of available instances goes beyond a limit set by Meetrix, the autoscaling group will reduce the number of instances accordingly. This will be a huge advantage considering the amount that will cost for the setup during the peak usage time because according to the requirement, 50 concurrent users per region will be able to record the meeting and the server cost will go high unnecessarily during the off-peak hours. These recordings will automatically be uploaded to AWS S3 bucket ensuring the security and scalability of data.
Another important component of the system was the Coturn server. When there is a large number of participants using a video conferencing platform, the chances of some of them accessing the platform behind a firewall increase. If they are unable to connect by specific ports needed in the Jitsi setup, those participants cannot send and receive video and audio traffic with the JVBs.  This Coturn server will ensure they are still able to send traffic with the system and have a seamless meeting.
Meetrix was able to integrate Virtual Event Site with pre-existing meeting management systems and synchronize meeting schedules between Virtual Event Site. This is a very user-friendly environment for the management process of the Virtual Event Site and integrating both components has heightened the usability.
Below are the versions which Meetrix has utilized during the deployment.
Conclusion
Meetrix was able to successfully assist Virtual Event Site to address pressing issues related to infrastructure and data load balancing. The partnership enabled Virtual Event Site to continue hosting seamless video conferences and solidify its status as a pioneer in creating and managing virtual events.
Additionally, after the solutions had been offered, Meetrix was able to come up with an Optimal Cost for their services such that the team at Virtual Event Site stayed within their budget. This was proposed after taking the recurring cost of AWS and subsequent cloud use into consideration, as the client would be handling this cost during the course of using the services provided.
Meetrix is able to provide a substantial amount of help over a short period of time thanks to its efficient team and unique features. Meetrix employed Jitsi Meet's highly configurable nature paired with its easy integration with other software makes it an ideal solution-provider for most companies seeking technical support in the WebRTC area.
Given its open-source nature and continuous effort to develop itself, Meetrix is able to integrate Jitsi Meet into pre-existing systems to satisfy the needs of clients across the globe.