Otter.ai Transcription Tool Comprehensive Review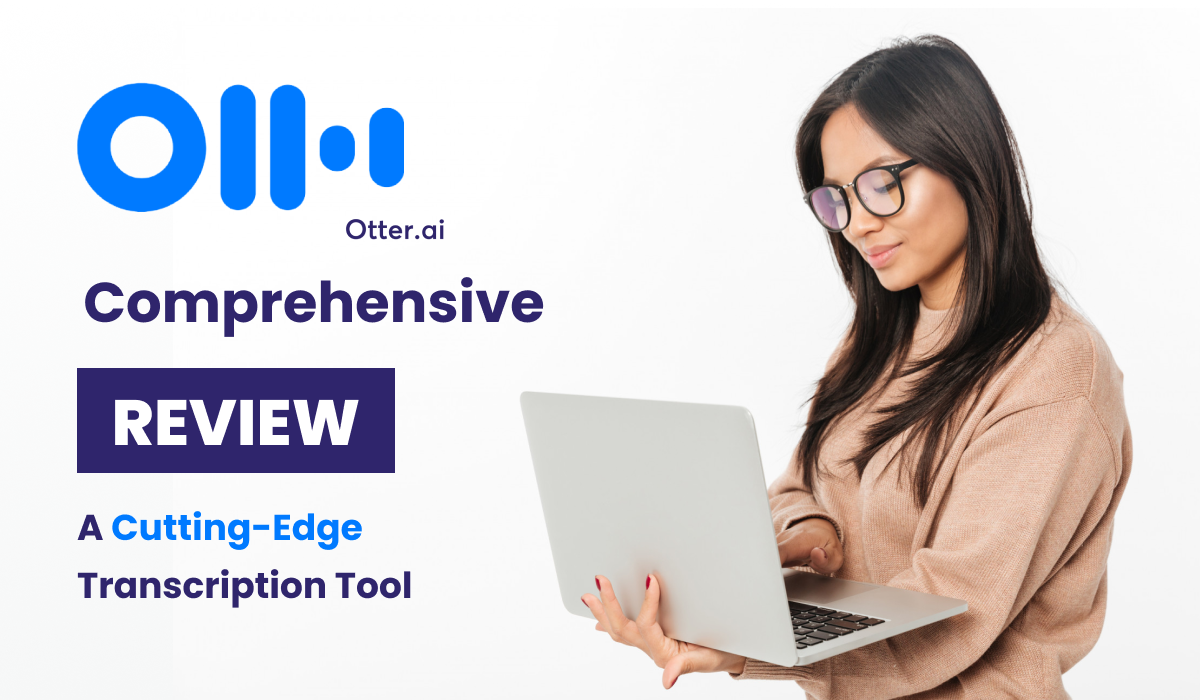 Introduction

With every step we take towards a society reliant on technology, there is an increased focus on creating efficient and accurate solutions. Various professions and personal hobbies have begun integrating technology to make the process more streamlined. One such field is speech-to-text transcription, which has become a ubiquitous necessity in recent years. Tools like Otter.ai are integral to this change and have become key players in the market.
Otter.ai is a comprehensive transcription tool that helps convert speech found in audio and video content into transcripts from which segments can be searched, edited and shared where necessary. This review brushes on the key features of Otter.ai as a transcription tool and, its benefits and possible pitfalls as well as its user experience. We hope to equip you with a comprehensive understanding of the tool's capabilities, to help you make an educated decision on if it aligns with your needs.
Key Features of Otter.ai

Accurate Automated Transcriptions

The most important feature of Otter.ai is its automated transcription capabilities. It is revered for its accuracy. Otter.ai's advanced algorithm shortens the time users have to spend on manual transcription by a staggering amount by effectively converting speech into text. The high level of precision provided by Otter.ai negates the need for extensive editing and makes it an ideal tool for professionals who require accurate transcription and content creators who need transcription assistance to incorporate subtitles into the content they create.
Real-time Transcription Capabilities

Along with highly accurate content, Otter.ai also offers real-time transcription which is especially useful for users who may be engaging in live meetings such as conferences, interviews and workshops that require quick and accurate transcription for faster information uptake. Real-time transcription is also a key feature for enhanced collaboration and referencing. Otter.ai's capability to facilitate this particular feature makes it an irreplaceable tool for users who constantly engage in communications that require transcription.
Speaker Identification and Labeling

Transcription is tricky, especially when there are multiple speakers involved, such as in an interview or panel discussion, as the tool has to be able to identify the speakers and attribute the correct spoken words to them. Otter.ai can accurately recognize speakers and label their portions of speech within the transcript thanks to its machine-learning capabilities. This is integral to the contextualization of content created and makes the transcript easier to follow as well as integrate into other content such as presentations and reports.
Multi-Language Support

Otter.ai offers multilingual support which is an essential feature given the increased diversity that exists within all kinds of industries and fields of work. It allows transcription of spoken content from a range of languages and is accurate in its conversion. This feature is particularly handy for users who may be involved in international business, where multilingual speakers are present.
Integration with Cloud Storage Platforms

One of the hallmark features of Otter.ai is its seamless integration and its ability to connect to many cloud storage services effortlessly. Some platforms include Google Drive and Dropbox. This enables the easy storing and sharing of the transcribed content. It allows for the written transcripts to be saved in a secure space without the threat of data being mishandled. Otter.ai's integration capabilities make it easier for users to access the content as well as enhance collaboration within a team of coworkers.
Searchable Transcripts with Keyword Highlighting
The Keyword highlighting feature of Otter.ai's transcription makes the transcript marginally searchable and enables users to look for specific terms within the transcript without spending too much time combing through the entire transcript. This is mostly useful for Academics who may need to identify specific phrases and words for referencing purposes.

Otter.ai is a wholesome solution that addresses multiple challenges to transcription with apt features that help streamline the transcription process.
User Experience and Interface

Using Otter.ai is a breeze given its intuitive interface, constantly catering to a more comfortable user experience while propelling productivity. Some of the main ways in which it enables this are listed below:
Intuitive Dashboard and Navigation

Users logging into Otter.ai are presented with an unblemished dashboard. The thoughtfully designed interface is user-friendly and easy to navigate. The sections are well-organized, menu options are immaculate and the icons are intuitive, which make for an efficient and hassle-free experience for all users, regardless of their individual understandings of technology.
Uploading and Initiating Transcription Process

Users are able to upload their audio and video content onto the platform rather effortlessly, with the click of an icon, and the transcription process begins. The steps involved are rather simple and straightforward which reduces possible confusion and frustration on the consumer's end. This makes Otter.ai especially useful for projects that may have shorter timelines.
Real-time Transcription Experience

The real-time experience provided by Otter.ai makes attending live events an easy task for users, especially those who may be in need of notes to keep track of the event's progress. Users are able to keep up with the directions shared and keep up with the conversation. Documentation of spoken word is always beneficial as it enhances comprehension and aids easy interaction with the content.
User-Friendly Text Editor for Editing Transcripts

Upon transcription, Otter.ai enables users to use an in-built text editor. This allows the transcribed content to be more refined and simplifies the process for users; they don't have to engage in additional editing using third-party software and spend more time than necessary on making edits. Given its accuracy, Otter.ai's transcriptions don't often require editing but if the users would like to add additional context or restructure sentences, they are able to do so with ease.
Customization Options for Display and Layout

The layout of Otter.ai is highly customizable, as is its display. Users are able to change font size, colour and overall theme of the internal layout for a more personalized experience. This is a feature most useful for users who may have vision impairments that make usage of certain colours and sizes harder than others; by allowing customization, Otter.ai is easily one of the most accessible transcription tools available on the market.
Otter.ai is a tool committed to providing user-friendly transcription services to a global audience. By combining an intuitive dashboard with real-time transcription as well as customization options, it empowers users to engage in transcription while giving them leeway for creative expression.
Accuracy and Performance
Automated transcription is easily generated but the accuracy largely depends on the tool's expertise in the area as well as its experience. Otter.ai is renowned for its accuracy in performance and is at the forefront of transcription tools chosen for its accuracy.
Accuracy of Automated Transcriptions

The accuracy of the automated transcriptions provided by Otter.ai is arguably high and remarkable, especially given the efficiency with which its produced. Otter.ai employs machine learning algorithms to identify spoken words and convert them into written text with an impressive amount of accuracy.
Factors Influencing Accuracy

Otter.ai is holistic, such that it considers all factors that contribute to increased accuracy such as clear audio quality and minimal background noise. Otter.ai is equipped with technology that enables it to identify speech patterns, accents and dialects that influence the speaker's enunciation of words. Extensive research and use cases have helped Otter.ai build its own catalogue of speech in order to provide accurate transcription services.
Comparisons with Industry Standards and Competing Tools

The accuracy of Otter.ai against the industry standards, as well as its competition, has shown consistency unrivalled by most tools on the market. It has constantly met and even surpassed the standards set by the industry with its ability to identify nuances and different speakers in a multi-speaker forum, even if the conversation is complex.
User Feedback

Feedback from users is a necessary insight by which a tool's applicability to real-world circumstances is measured; Otter.ai has consistently received stellar feedback across the globe, by many industries, for its accuracy and efficient transcription capabilities. Most feedback alludes to the excellence and reliability of transcriptions, with an emphasis on how impressive it is that Otter.ai is able to identify nuances as well as niche technical jargon when transcribing audio and video material. These positive user experiences reinforce Otter.ai's reputation for accuracy.
Real-World Applications

The versatile features available in Otter.ai make it an ideal tool for a range of industries and enhance productivity for professional and personal users alike. Some of the real-world applications of Otter.ai are specified herewith.
Transcription for Content Creators and Podcasters

The need for timely solutions is integral for people who work in content creation and those involved in making podcasts. Otter.ai is able to enhance productivity within the workspace and streamline its process by providing them with automated transcription as well as real-time transcription. This quick and accurate conversion of speech to text aids the creation of captions and makes the content more accessible to a wider audience.
Business Meetings and Conferences

Effective communication is of utmost importance within the realm of business and Otter.ai's real-time transcription is invaluable for those engaging in conferences as well as meetings. The transcripts created can be considered a written record which facilitates collaboration and ensures that important information shared within the meeting isn't lost. Users are able to interact comfortably within the meeting space without having to divide their attention between listening and taking notes.
Educational Institutions and Students

Otter.ai's transcription services are useful for educators and students alike, as it is able to convert the spoken text of lectures and study groups into text which can then be converted into notes for revision. This is especially useful for theory-heavy subjects that require focus during lessons and demonstrations, as well as proper notes for a clear understanding of the information acquired.
Legal and Medical Professionals

Within the parameters of legal and medical work, accurate documentation of information is key and can make or break a case. Otter.ai enables smooth transcription that is easy to read, share and edit accordingly. It also allows keyword searching, which helps with tracing back to important phrases and referring to specific details one may miss if it were in an audio or video format. These transcripts provide both legal experts and healthcare workers with information essential to dealing with clients and patients.
Researchers and Journalists

Otter.ai is truly versatile and reliable as it is used by researchers and journalists for the generation of transcripts based on interviews and discussions. Given its highly secure nature, even sensitive information can be transcribed without the data falling into the wrong hands. The data analysis and article writing segments are enabled by the quick transcription and its ability to pinpoint specific information via keyword search.
Otter.ai is a highly adaptable tool, with multiple capabilities that cater to many industries and professionals alike.

Pros vs. Cons

| Pros of Otter.ai | Cons of Otter.ai |
| --- | --- |
| High Accuracy in Transcription | Limitations in Handling Complex Accents |
| Real-time Transcription Benefits | Challenges in Noisy Environments |
| User-Friendly Interface | Pricing Tiers and Limitations |
| Speaker Identification Enhances Context | Dependence on Internet Connectivity for Real-time Transcription |
| Seamless Cloud Integration | |
| Compatibility with Various Audio and Video Formats | |
| Integration with Productivity Tools | |
| Syncing Transcripts with Cloud Storage | |
Pricing Plan

While the Basic version of Otter.ai is Free and can be used for tech novices, as the name suggests, it is only equipped with the basic necessities for transcription such as 300 monthly minutes worth of AI assisted transcription, which may be ideal for individual users but not so much for those with professional specifications.
There are three other versions listed herewith:
Pro: $10/month, per user. All Basic features and additional features such as Advanced Search as well as 1200 monthly transcription minutes; 90 minutes per conversation.
Business: $20/month, per user. All features are available in the Basic and Pro versions as well as Admin features, and 6000 monthly transcription minutes; 4 hours per conversation.
Enterprise: Pricing is decided upon Contact and Consultation.

Integration and Compatibility

Compatibility with Various Audio and Video Formats

A transcription tool's true universality is seen in its ability to integrate various formats of audio and video content for transcription. Otter.ai is one of the only transcription tools that is compatible with MP3, WAV and MP4 formats; it is able to process and transcribe the content of these formats without a hitch in accuracy. The versatility of this tool enables users to have a smooth transcription experience across the board.
Integration with Productivity Tools

Enhancing and enabling productivity is among Otter.ai's key missions and it does so by seamlessly integrating with productivity tools readily available on the market. This includes platforms such as Google Workspace and Microsoft Office, which are each equipped with multiple service-providing facets meant to enable productivity. Otter.ai allows users to add the generated transcripts into existing documents within their workflows and enhances collaboration between users within the same workspace.
Syncing Transcripts with Cloud Storage

Otter.ai is known for its integration with Cloud services such as Google Drive and Dropbox. Being able to sync transcripts with these services makes it easier for users to access and share them across devices. The data stored within these services is highly secure and easier to manage than if the transcripts were only available within the Otter.ai tool.
Conclusion

In this review, we have touched upon Otter.ai's impressive capabilities and versatile use cases. The attributes it is most known for include its intuitive UI, cloud integration capabilities and accuracy. The limitations faced by the tool are also discussed, such as potential errors when complicated accents and low-quality audio are in the mix.
However, Otter.ai remains an evidently versatile tool with high applicability in various industries, ranging from legal to medical and content creation to academics. Its efficient transcription capabilities are ideal for most workspaces as it prioritizes time-saving, productivity enhancement and facilitated collaboration.
The right transcription tool can have a significant impact on the content created, which is why tools like Otter.ai with comprehensive features and an extensive user base are often easier to choose.
Transcription tools such as Otter.ai have brought to light the growing need for technology that aids human progress and simplifies complexities. Users who are interested in Otter.ai's innovative capabilities are also urged to keep an eye out for other tools in the market that may be more equipped to meet your needs. Otter.ai's strengths make it a promising tool with much to give to the world.

Otter.ai and Transcription Tools Related FAQs