Jitsi is a set of open-source projects that allows you to easily build and deploy secure video conferencing solutions. At the heart of Jitsi are Jitsi Videobridge and Jitsi Meet, which let you have conferences on the internet. Jitsi Videobridge is the heart of jitsi. Lets take a look at its' features.
It is an inexpensive solution to scale to your suitability and running your own service. Results in lower latency and better quality.
Jitsi is compatible with WebRTC (With WebRTC, you can add real-time communication capabilities to your application that works on top of an open standard. It supports video, voice, and generic data to be sent between peers, allowing developers to build powerful voice and video-communication solutions.)
Jitsi supports advanced video routing concepts such as simulcast, bandwidth estimations, scalable video coding and many others.
We at Meetrix, focus on installing, customizing and configuring Jitsi meet according to our clients requirements. We offer different packages to suit small or large scale cases. In detail, our services include the following :
Installing and configuring - Install, customize and configure Jitsi Meet according to your requirement. Different packages are available to cater small and large scale use cases
Customizing to suit your brand - Customize your company logo, title, font and colors to match the brand or build a completely new system with lib-jitsi-meet.
Load Balancing - Autoscale Jitsi Meet on AWS, GCP or on your favorite cloud provider to cater hundreds of concurrent users.
Video Recording and Streaming - Enable video recording and streaming for your conference with Jibri server.
SIP Integration - Enable telephone dial-in and dial-out functionality by integrating a hosted PBX like Twilio, Voximplant to work with Jigasi or your own PBX server such as Freeswitch or Asterisk.
Autoscaling - Auto-scale Jitsi Video Bridges and Jirbri streaming/recording servers on AWS, GCP or on your favorite cloud provider.
When it comes to Jitsi Launcher, we have a step by step process our client is required to go through, so that we as a team could meet our client's exact requirements.
Step 01 : Use Case/Scenario
You are given two options of choosing between Meetings, where 2-50 participants are allowed per meeting and Webinars, where seminars are conducted over the web with the person conducting the webinar will have the video on and the participants will have to switch on video occasionally and usually connect only via view/audio only.
You will also be providing us the number of participants and the concurrent meetings/webinars.
Step 02 : Branding
You are required to upload their company logo and logo placements, where simultaneously you have the advantage of getting a glimpse of how your meeting room would appear.
Further information like domain name, name and description of application, privacy policy URL, terms URL and help URL are collected.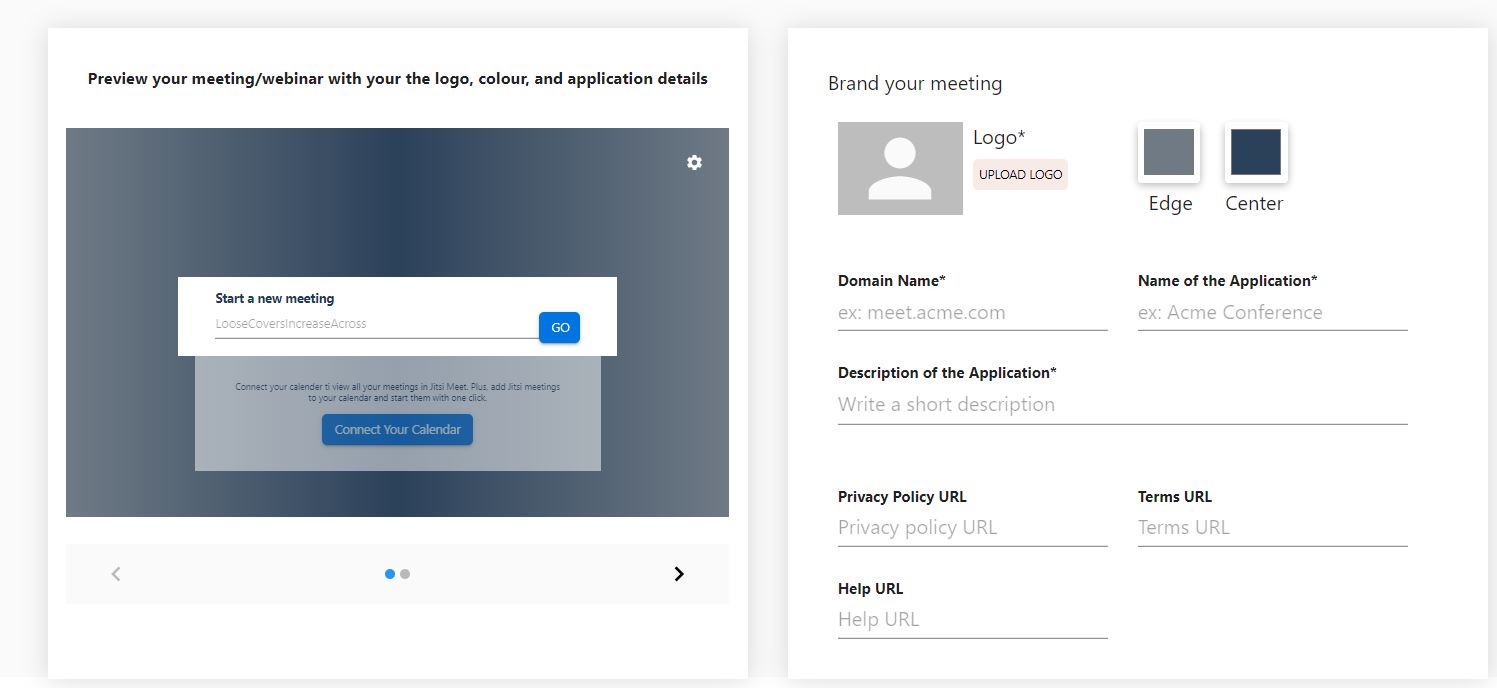 Step 03 : Payment
You are then led to a secure payment gateway where you could pay either by Paypal, Stripe or any debit/credit card.
We charge an amount of $99.
Step 04 : Customize
In this step the process of customizing happens and the source code is generated.
Step 05 : Download
Once the customized source code is generated, you can now download and istall.
Meetrix also provides after solutions service as monitoring, upgrading and any technical support as well. With our hands on years of experience with Jitsi launcher, our only goal is to meet all your requirements perfectly with our team of experts.
Try it now : Meetrix Jitsi Launcher